The Amazon Rainforest is located in South America that spans 9 different countries but the majority of it (​around 60%) is located in Brazil.
Location Map of Amazon Rainforest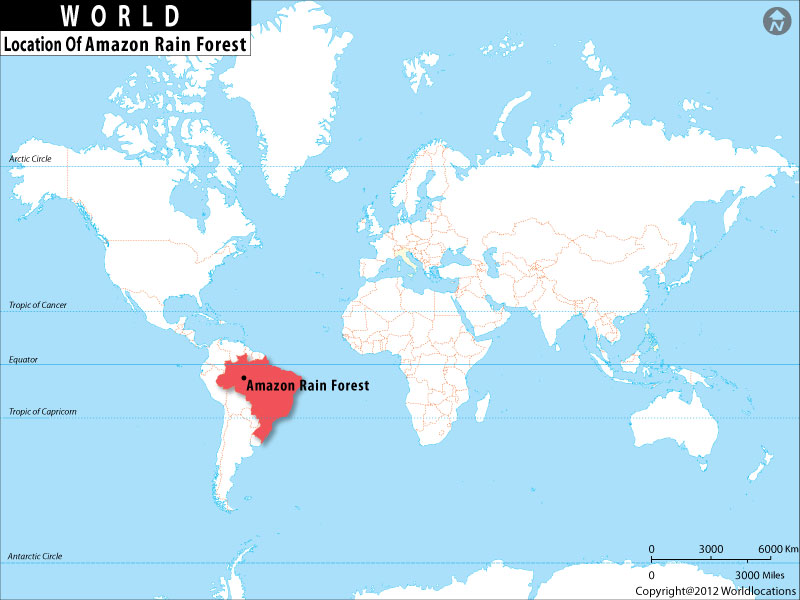 About Map: Map showing Where is Amazon Rainforest, Brazil located on the World Map.
Where is Amazon Rainforest Located?
The Amazon is a vast region that spans nine countries: Brazil, Bolivia, Peru, Ecuador, Colombia, Venezuela, Guyana, Suriname, and French Guiana, an overseas territory of France.
It contained 60% of the rainforest in Brazil, followed by Peru with 12.8%, Bolivia with 7.7%, Colombia with 7.1%, Venezuela with 6.1%, Guyana with 3.1%, Suriname with 2.5%, French Guyana with 1.4%, and Ecuador with 1%. This basin encompasses 2,700,000 sq mi (7,000,000 sq km), of which 5,500,000 km2 (2,100,000 sq mi) are covered by the rainforest.
About Amazon Rainforest
Amazon Rainforest is also known as Amazon Jungle or Amazonia. The Amazon Rainforest covers the majority of the Amazon basin in South America. The Amazon Rainforest, the world's biggest river basin, runs from the Atlantic Ocean in the east to the Andes' tree line in the west. The forest expands from a front along the Atlantic that is 200 miles (320 km) wide to a belt that is 1,200 miles (1,900 km) broad where the lowlands meet the Andean foothills. Amazon Rainforest is bordered to the north by the Guiana Highlands, to the west by the Andes Mountains, to the south by the central plains of Brazil, and to the east by the Atlantic Ocean.
In the Amazon, more than 30 million people, including 350 indigenous and ethnic groups, rely on nature for traditional remedies, clothing, and agriculture. All inhabitants rely on the Amazon's natural resources for food, housing, and a living despite the fact that the majority reside in vast urban areas.
There are several million different species of insects, plants, birds, and other living things in the Amazon Rainforest, making it the richest and most diverse biological reservoir on earth. Many of these species are still undiscovered by science. Many different varieties of myrtle, laurel, palm, and acacia trees, as well as rosewood, Brazil nuts, and rubber trees, are included in the lush vegetation of Amazon Rainforest. The mahogany and the Amazonian cedar provide extremely good wood. There are many different species of monkeys, as well as the jaguar, manatee, tapir, red deer, and capybara, among other major animals in Amazon Rainforest.
Human habitation and land development are the main causes of deforestation in the Amazon. The loss of habitat due to deforestation and the rising frequency of fires are the main threats to the biodiversity in the Amazon. Fires may have had some impact on almost 90% of the plant and animal species in the Amazon Rainforest.
Amazon Rainforest Facts
Fact sheet
Houston
Continent
South America>
Nine countries share the Amazon basin
Brazil, Bolivia, Peru, Ecuador, Colombia, Venezuela,
Guyana, Suriname, and French Guiana (France).
Area
5,500,000 km2 (2,100,000 sq mi)
People Live in the Amazon
More than 30 million
The average daily temperatures range
20°C (68°F) to 25°C (77°F
The nearest airport to Amazon rainforest
Manaus (MAO), Brazil
World Travel Destinations