The Amazon Rainforest is located in South America that spans 9 different countries but the majority of it (​around 60%) is located in Brazil.
Location Map of Amazon Rainforest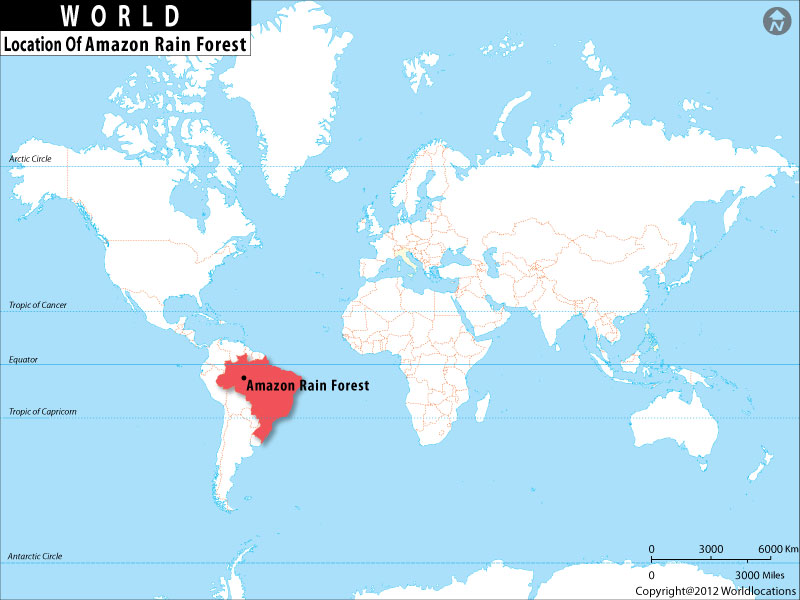 About Map: Map showing Where is Amazon Rainforest, Brazil located on the World Map.
Where is Amazon Rainforest Located, TX?
The Amazon is a vast region that spans nine countries: Brazil, Bolivia, Peru, Ecuador, Colombia, Venezuela, Guyana, Suriname, and French Guiana, an overseas territory of France.

It contained 60% of the rainforest in Brazil, followed by Peru with 12.8%, Bolivia with 7.7%, Colombia with 7.1%, Venezuela with 6.1%, Guyana with 3.1%, Suriname with 2.5%, French Guyana with 1.4%, and Ecuador with 1%. This basin encompasses 2,700,000 sq mi (7,000,000 sq km), of which 5,500,000 km2 (2,100,000 sq mi) are covered by the rainforest.
Amazon Rainforest Facts
Fact sheet
Houston
Continent
South America>
Nine countries share the Amazon basin
Brazil, Bolivia, Peru, Ecuador, Colombia, Venezuela,
Guyana, Suriname, and French Guiana (France).
Area
5,500,000 km2 (2,100,000 sq mi)
People Live in the Amazon
More than 30 million
The average daily temperatures range
20°C (68°F) to 25°C (77°F
The nearest airport to Amazon rainforest
Manaus (MAO), Brazil
World Famous Destinations