Iguazu Falls are famous waterfalls of the Iguazu River on the border of Brazilian State Parana and Argentina Province Misiones.
Location Map of Iguazu Falls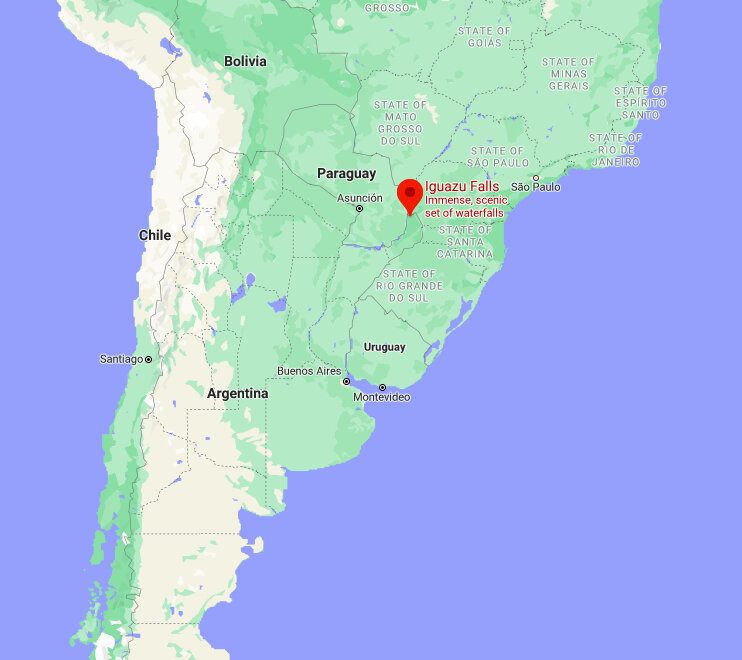 About Map: Map showing Where is Iguazu Falls, located in the Map.
About Iguazu Falls
Iguazu Falls are Iguazu River waterfalls that are located on the boundary of the Brazilian state of Paraná and the Argentine province of Misiones. The river is split into the upper and lower Iguazu by the falls. The Iguazu River begins to rise not far from Curitiba's city. The river flows through Brazil for the majority of its length, although the majority of the Iguazu Falls are on the Argentine side. The Iguazu River divides Argentina and Brazil below its fusion with the San Antonio River. Puerto Iguazu and Foz de Iguazu, respectively, are the names of the cities in Argentina and Brazil that are home to the Iguazu Falls. The distance between the two cities' centers is only 16 kilometers. The Argentinean side of the Iguazu Falls is situated 29 kilometers from Foz de Iguazu's town and 18 kilometers from Puerto Iguazu.
The Iguaçu River flows westward and then northward before plunging over the edge of the Parana Plateau, where the Iguazu Falls are located. The river then continues its journey in a canyon. The river is divided into multiple tributaries that feed the cataracts above the falls by islands and islets. The Iguazu Falls are the greatest broken waterfall in the world since they consist of 275 distinct falls. The Iguazu River feeds a series of waterfalls that make up the Iguazu Falls.
The world's largest waterfall system is the Iguazu Falls. The falls, which span over 3 kilometers along Argentina's and Brazil's shared border, consist of about 275 distinct vertical drops that range in height from 60 to 82 meters. Therefore, the Iguazu Falls are twice as wide as and taller than Niagara Falls.
One of the top tourist destinations is the Iguazu Falls and Iguazu National Park, which is shared by Brazil and Argentina and offers a variety of ecological and natural attractions. This magnificent natural wonder is appreciated by millions of people and is supported by UNESCO. of the Iguazu River on the border of Brazilian State Parana and Argentina Province Misiones.
World Travel Destinations