This is Summer Olympics Schedule, Dates, Calendar of All Events start from July 23 to August 8, 2021 in Tokyo, Japan.
The complete schedule for the 2020 Tokyo Olympic Games have been announced. The wait is almost over for sport-lovers all over the world as the Summer Olympic games are about to begin. The 2020 Tokyo Olympics will be conducted from July 23 to August 8.
The Olympic games were supposed to be held on 2020. But, they were postponsed last year due to the COVID-19 pandemic. This was the first time in the history of Olympic Games that they were postponed and re-scheduled for the next year instead of being cancelled.
The full schedule for the Olympics was announced by the Tokyo Olympics and Paralympic Organising committee. The schedule for the Olympic games is almost the same as last year, if we go by the dates. However, each event will be conudcted a day earlier than planned for last year. Even though the main events of the Tokyo Olympics will begin on July 23, the preliminary events will start two days earlier on July 21. Baseball/Softball and Football will be conducted on July 21 and 22.
The Opening Ceremony of the Tokyo Olympics will be held on July 23 from 8 pm to 11 pm at the Olympic Stadium. Two other events of Archery and Rowing will also be held on this day. However, the first medal event will be held on July 24. Millions of people from across the world are eagerly waiting for the Olympic Games to begin. The complete schedule of the 2020 Tokyo Olympics can be checked here.
Tokyo Olympics 2020 Calendar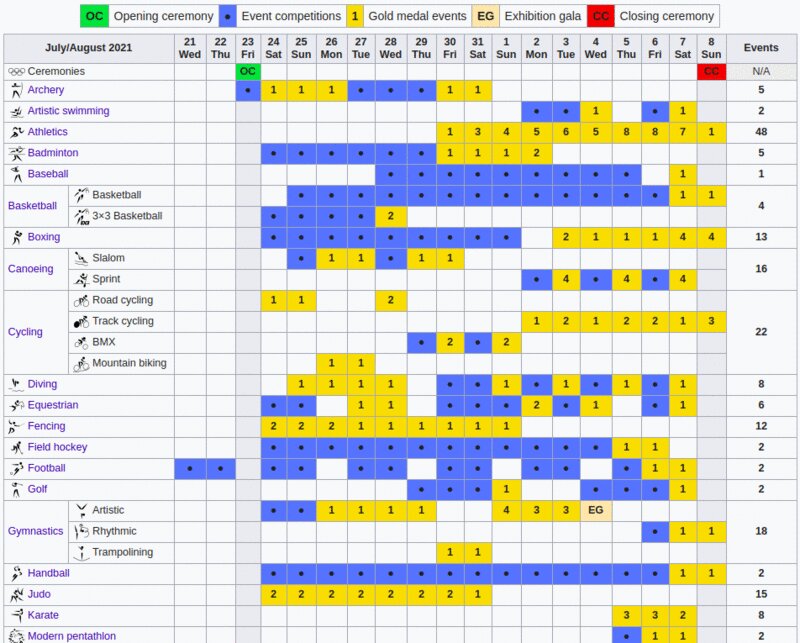 2020 Tokyo Olympics Schedule, Dates for All Events
Sport
Discilpline
Dates
Aquatics
Swimming
July 24 (Saturday) – August 1 (Sunday)
Diving
July 25 (Sunday) – July 28 (Wednesday), July 30 (Friday) – August 7 (Saturday)
Artistic Swimming
August 2 (Monday) – August 4 (Wednesday), August 6 (Friday) – August 7 (Saturday)
Water Polo
July 24 (Saturday) – August 8 (Sunday)
Marathon Swimming
August 4 (Wednesday) – August 5 (Thursday)
Archery
July 23 (Friday) – Julyt 31 (Saturday)
Athletics
Track & Field / Marathon
July 30 (Friday) – August 8 (Sunday)
Race Walk
July 30 (Friday), August 6 (Friday) – August 7 (Saturday)
Badminton
July 24 (Saturday) – August 2 (Monday)
Baseball/Softball
Baseball
July 28 (Wednesday) – August 5 (Thursday), August 7 (Saturday)
Softball
July 21 (Wednesday) – July 22 (Tuesday), July 24 (Saturday) – July 27 (Tuesday)
Basketball
3×3 Basketball
July 24 (Saturday) – July 28 (Wednesday)
Basketball
July 25 (Sunday) – August 8 (Sunday)
Boxing *
July 24 (Saturday) – August 1 (Sunday), August 3 (Tuesday) – August 8 (Sunday)
Canoe
Slalom
July 25 (Sunday) – July 30 (Friday)
Sprint
August 2 (Monday) – August 7 (Saturday)
Cycling
BMX Freestyle
July 31 (Saturday) – August 1 (Sunday)
BMX Racing
July 29 (Thursday) – July 30 (Friday)
Mountain Bike
July 26 (Monday) – July 29 (Tuesday)
Road
July 26 (Saturday) – July 25 (Sunday), July 28 (Wednesday)
Track
August 2 (Monday) – August 8 (Sunday)
Equestrian
Dressage
July 24 (Saturday) – July 25 (Sunday), July 27 (Tuesday) – July 28 (Wednesday)
Eventing
July 30 (Friday) – August 2 (Monday)
Jumping
August 3 (Tuesday) August 6 (Wednesday), August 7 (Friday) – August 7 (Saturday)
Fencing
July 24 (Saturday) – August 1 (Sunday)
Football
July 21 (Wednesday) – July 22 (Thursday), July 24 (Saturday) – July 25 (Sunday), July 27 (Tuesday) – July 28 (Wednesday), July 30 (Friday) – July 31 (Saturday), August 2 (Monday) – August 3 (Tuesday), August 5 (Thursday) – August 7 (Saturday)
Golf
July 29 (Thursday) – August 1 (Sunday), August 4 (Wednesday) – August 7 (Saturday)
Gymnastics
Artistic
July 24 (Saturday) – July 29 (Thursday), August 1 (Sunday) – August 3 (Tuesday)
Rhythmic
August 6 (Friday) – August 8 (Sunday)
Trampoline
July 30 (Friday) – July 31 (Saturday)
Handball
July 24 (Saturday) – August 8 (Sunday)
Hockey
July 24 (Saturday) – August 6 (Friday)
Judo
July 24 (Saturday) – July 31 (Saturday)
Karate
Kata, Kumite
August 5 (Thursday)- August 7 (Saturday)
Modern Pentathlon
August 5 (Thursday) – August 7 (Saturday)
Rowing
July 23 (Friday) – July 30 (Friday)
Rugby
July 26 (Monday) – July 31 (Saturday)
Sailing
July 25 (Sunday) – August 4 (Wednesday)
Shooting
Rifle and Pistol
July 24 (Saturday) – July 25 (Sunday), July 27 (Tuesday), July 29 (Thursday) – August 2 (Monday)
Shotgun
July 25 (Sunday) – July 26 (Monday), July 28 (Wednesday) – July 29 (Thursday), July 31 (Saturday)
Skateboarding
Park
August 4 (Wednesday) – August 5 (Thursday)
Street
July 25 (Sunday) – July 26 (Monday)
Sport Climbing
August 3 (Tuesday) – August 6 (Friday)
Surfing **
July 25 (Sunday) – August 1 (Sunday)
Table Tennis
July 24 (Saturday) – July 30 (Friday), August 1 (Sunday) – August 6 (Friday)
Taekwondo
July 24 (Saturday) – July 27 (Tuesday)
Tennis
July 24 (Saturday) – August 1 (Sunday)
Triathlon
July 26 (Monday) – July 27 (Tuesday), July 31 (Saturday)
Volleyball
Beach Volleyball
July 24 (Saturday) – August 7 (Saturday)
Volleyball
July 24 (Saturday) – August 8 (Sunday)
Year Wise Olympics Medal Table