The Galapagos Islands are a chain of islands, or archipelago, is a province of Ecuador situated in the eastern Pacific Ocean. The Galapagos Islandsis located about 605 miles (973 km) from continental Ecuador and is composed of 127 islands, islets and rocks, of which 19 are large and 4are inhabited.
Location Map of Galapagos Islands, Ecuador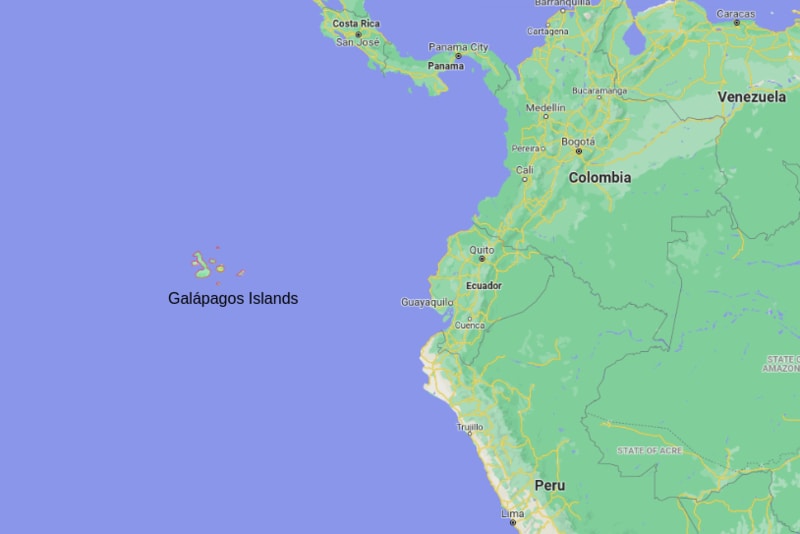 About Map:
The map showing location of Galapagos Islands in the Map.
Where is Galapagos Islands Located?
The islands are located in the eastern Pacific Ocean, 973 km (605 mi) off the west coast of South America. The Galapagos Islands are part of the country of part Republic of Ecuador, are an archipelago of volcanic islands in the Pacific Ocean. The Galápagos Islands is the Galapagos Province of Ecuador. It is lies between coordinates 1°40'N–1°36'S, 89°16'–92°01'W.
18 Main islands in Galapagos Islands
| | | |
| --- | --- | --- |
| Baltra (South Seymour) Island | Genovesa (Tower) Island | Rábida (Jervis) Island |
| Bartolomé (Bartholomew) Island | Isabela (Albemarle) Island | San Cristóbal (Chatham) Island |
| Darwin (Culpepper) Island | Marchena (Bindloe) Island | Santa Cruz (Indefatigable) Island |
| Española (Hood) Island | North Seymour Island | Santa Fe (Barrington) Island |
| Fernandina (Narborough) Island | Pinzón (Duncan) Island | Santiago (San Salvador, James) Island |
| Floreana (Charles or Santa María) Island | Pinta (Louis) Island | Wolf (Wenman) Island |
Minor islands in Galapagos Islands
The Galapagos is formed by four Minor islands: Daphne Major, South Plaza Island (Plaza Sur), Nameless Island and Roca Redonda.
Galapagos Islands Geographic Facts
| | |
| --- | --- |
| Continent | South America |
| Region | Latin America and the Caribbean |
| Contry | Ecuador |
| Location | Pacific Ocean |
| Province | Galápagos |
| Capital city | Puerto Baquerizo Moreno |
| Coordinates | 0°30′S 90°30′WCoordinates: 0°30′S 90°30′W |
| Total islands | 21 |
| Major islands | 18 |
| Area | 7,880 km2 (3,040 sq mi) |
| Highest elevation | 1,707 m (5600 ft) |
| Highest point | Volcán Wolf |
| Population | 25,000 (2010) |
| Pop. density | 3/km2 (8/sq mi) |
| Time zone | GALT (UTC-6) |
| Climate | Tropical savanna climate and a semi-arid climate. |
| Airport | San Cristobal (San Cristóbal Airport) and Baltra (Seymour Airport). |
| International Dialing Codes | 593 |
| Highest Point in the Galapagos Islands | Isabela, also known as Mount Whiton, has an elevation of 1,707 m (5600 ft) |
Places to Visit in Galapagos Islands
| | | | |
| --- | --- | --- | --- |
| Galápagos National Park | Charles Darwin Research Station | Punta Cormorant | Mirador Cerro Tijeretas |
| Galápagos Marine Reserve | Darwin Island | Galapagos Beach at Tortuga Bay | Punta Espinosa |
| North Seymour Island | Wolf Island | Rancho Primicias - Giant Tortoise | Laguna las Ninfas |
| South Plaza Island | Cerro Brujo | Playa El Garrapatero | Camino a las grietas |
| Rabida Island | Isla Lobos | Wall of Tears | Interpretation Center |
| Parque Nacional Galápagos | Black Turtle Cove | Playa Mann | Pearl Shell |
| Roca León Dormido | Point Carola Beach | Kicker Rock | Muelle Tijeretas |
| Sierra Negra | El Junco Lagoon | Galapaguera de Cerro Colorado | Punta Pitt |
South America Countries Location Maps