Midwestern Region States United State, is one of four census regions of the United States Census Bureau.
Map of Midwestern Region States, USA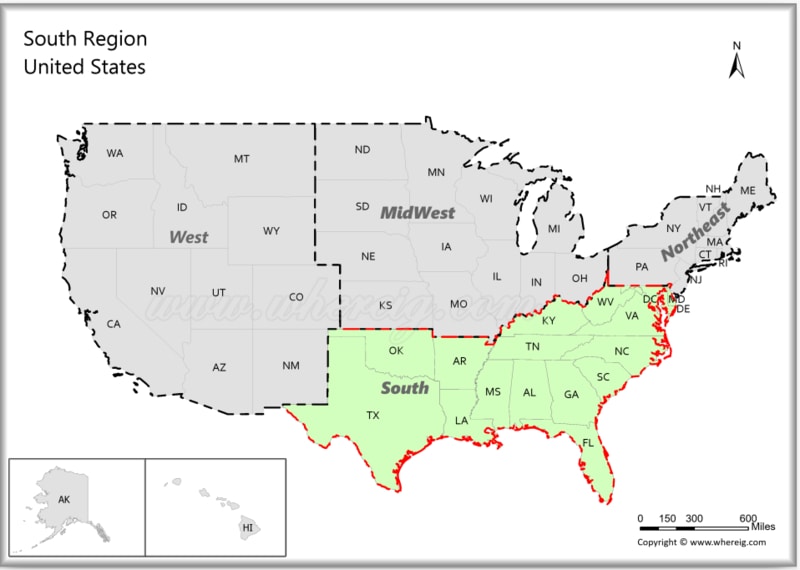 About Map - Map showing Midwestern Region States United States.
Midwestern States
The Midwestern United States is one of the four census regions recognized by the United States Census Bureau. It is also known as the Midwest or the American Midwest. It is located in the north-central region of the country. Until 1984, the Census Bureau referred to it as the North Central Region. It is situated between the Northeastern and Western United States, with Canada to the north and the Southern United States to the south. As defined by the Census Bureau, the Midwestern United States includes 12 states and they are Illinois, Indiana, Iowa, Kansas, Michigan, Minnesota,

Missouri, Nebraska, North Dakota, Ohio, South Dakota, and Wisconsin.

The Census Bureau has divided the Midwest into two regions. Illinois, Indiana, Michigan, Ohio, and Wisconsin are all included in the East North Central Division and are all a part of the Great Lakes region. The Great Plains region is home to several of the states in the West North Central Division, including Iowa, Kansas, Minnesota, Missouri, North Dakota, Nebraska, and South Dakota.

With roughly 12.7 million residents, Illinois is the largest state in the Midwest and the sixth-largest state in the United States. Indiana is the smallest state among Midwestern States. Chicago is the third-most populous city in the country and the most populated in the American Midwest. After Chicago, he largest cities in Midwestern United States are Indianapolis and Detroit. Cincinnati, Cleveland, Columbus, Des Moines, Kansas City, Madison, Milwaukee, Minneapolis, Omaha, St. Louis, and Wichita are some of the other significant cities in the area.

The Midwest's local economies depend heavily on agriculture, which generates thousands of jobs and billions of dollars in exports. The region contains some of the most productive agricultural land on earth. The Midwest's main financial and commercial hub, Chicago has the third-highest gross metropolitan product in North America.

The Midwestern Region United States consists of twelve states: Illinois, Indiana, Iowa, Kansas, Michigan, Minnesota, Missouri, Nebraska, North Dakota, Ohio, South Dakota, and Wisconsin. Popular cities in the Midwestern Region are Chicago, Indianapolis, Des Moines, Detroit, Minneapolis, Saint Paul, Kansas City,, Lincoln, Bismarck, Columbus and Milwaukee.
List of Southern United States with Capitals
| State | Capital | Major Cities | Populaion 2020 Census | Land Area (Sq mi) | Density (Sq mi) | Total County |
| --- | --- | --- | --- | --- | --- | --- |
| Illinois | Springfield | Chicago, Aurora, Rockford, Joliet, Naperville and Springfield | 12,812,508 | 55,519 sq mi (143,793 km2) | 232 | 102 |
| Indiana | Indianapolis | Indianapolis, Fort Wayne, Evansville, South Bend and Hammond | 6,785,528 | 35,826 sq mi (92,789 km2) | 184.1 | 92 |
| Iowa | Des Moines | Des Moines, Cedar Rapids, Davenport, Sioux City and Waterloo | 3,190,369 | 55,857 sq mi (144,669 km2) | 55.6 | 99 |
| Kansas | Topeka | Wichita, Overland Park, Kansas City, Topeka and Olathe | 2,937,880 | 81,759 sq mi (211,754 km2) | 35.5 | 105 |
| Michigan | Lansing | Detroit, Grand Rapids, Warren, Sterling Heights, Lansing and Lansing | 10,077,331 | 56,539 sq mi (146,435 km2) | 175.3 | 83 |
| Minnesota | Saint Paul | Minneapolis, Saint Paul, Rochester, Duluth and Bloomington | 5,706,494 | 79,627 sq mi (206,232 km2) | 68.5 | 87 |
| Missouri | Jefferson City | Kansas City, Saint Louis, Springfield, Independence, Columbia and Jefferson City | 6,154,913 | 68,742 sq mi (178,040 km2) | 88.2 | 115 |
| Nebraska | Lincoln | Omaha, Lincoln, Bellevue, Grand Island and Kearney | 1,961,504 | 76,824 sq mi (198,974 km2) | 24.5 | 93 |
| North Dakota | Bismarck | Fargo, Bismarck, Grand Forks, Minot and West Fargo | 779,094 | 69,001 sq mi (178,711 km2) | 10.7 | 53 |
| Ohio | Columbus | Columbus, Cleveland, Cincinnati, Toledo and Akron | 11,799,448 | 40,861 sq mi (105,829 km2) | 283.7 | 88 |
| South Dakota | Pierre | Sioux Falls, Rapid City, Aberdeen, Brookings, Watertown and Pierre | 886,667 | 75,811 sq mi (196,350 km2) | 11.3 | 66 |
| Wisconsin | Madison | Milwaukee, Madison, Green Bay, Kenosha and Racine | 5,893,718 | 54,158 sq mi (140,268 km2) | 106.3 | 72 |
MAP of United States Regions
World Countries and Capitals