Midwestern Region States United State, is one of four census regions of the United States Census Bureau.
Map of Midwestern Region States, USA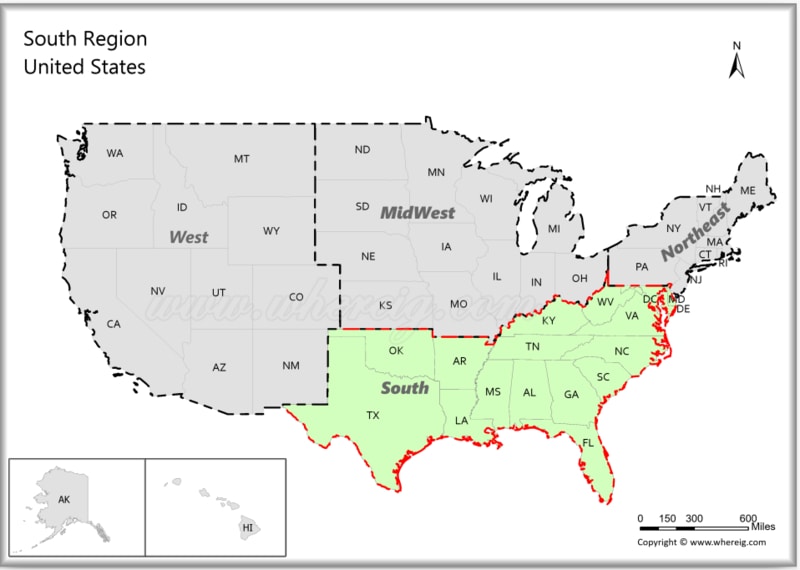 About Map - Map showing Midwestern Region States United States.
The Midwestern Region United States consists of twelve states: Illinois, Indiana, Iowa, Kansas, Michigan, Minnesota, Missouri, Nebraska, North Dakota, Ohio, South Dakota, and Wisconsin. Popular cities in the Midwestern Region are Chicago, Indianapolis, Des Moines, Detroit, Minneapolis, Saint Paul, Kansas City,, Lincoln, Bismarck, Columbus and Milwaukee.
List of Southern United States with Capitals
| State | Capital | Major Cities | Populaion 2020 Census | Land Area (Sq mi) | Density (Sq mi) | Total County |
| --- | --- | --- | --- | --- | --- | --- |
| Illinois | Springfield | Chicago, Aurora, Rockford, Joliet, Naperville and Springfield | 12,812,508 | 55,519 sq mi (143,793 km2) | 232 | 102 |
| Indiana | Indianapolis | Indianapolis, Fort Wayne, Evansville, South Bend and Hammond | 6,785,528 | 35,826 sq mi (92,789 km2) | 184.1 | 92 |
| Iowa | Des Moines | Des Moines, Cedar Rapids, Davenport, Sioux City and Waterloo | 3,190,369 | 55,857 sq mi (144,669 km2) | 55.6 | 99 |
| Kansas | Topeka | Wichita, Overland Park, Kansas City, Topeka and Olathe | 2,937,880 | 81,759 sq mi (211,754 km2) | 35.5 | 105 |
| Michigan | Lansing | Detroit, Grand Rapids, Warren, Sterling Heights, Lansing and Lansing | 10,077,331 | 56,539 sq mi (146,435 km2) | 175.3 | 83 |
| Minnesota | Saint Paul | Minneapolis, Saint Paul, Rochester, Duluth and Bloomington | 5,706,494 | 79,627 sq mi (206,232 km2) | 68.5 | 87 |
| Missouri | Jefferson City | Kansas City, Saint Louis, Springfield, Independence, Columbia and Jefferson City | 6,154,913 | 68,742 sq mi (178,040 km2) | 88.2 | 115 |
| Nebraska | Lincoln | Omaha, Lincoln, Bellevue, Grand Island and Kearney | 1,961,504 | 76,824 sq mi (198,974 km2) | 24.5 | 93 |
| North Dakota | Bismarck | Fargo, Bismarck, Grand Forks, Minot and West Fargo | 779,094 | 69,001 sq mi (178,711 km2) | 10.7 | 53 |
| Ohio | Columbus | Columbus, Cleveland, Cincinnati, Toledo and Akron | 11,799,448 | 40,861 sq mi (105,829 km2) | 283.7 | 88 |
| South Dakota | Pierre | Sioux Falls, Rapid City, Aberdeen, Brookings, Watertown and Pierre | 886,667 | 75,811 sq mi (196,350 km2) | 11.3 | 66 |
| Wisconsin | Madison | Milwaukee, Madison, Green Bay, Kenosha and Racine | 5,893,718 | 54,158 sq mi (140,268 km2) | 106.3 | 72 |
MAP of United States Regions
World Countries and Capitals