Western Region United State, is a geographical region of the United States. The Western United States consists of nine states, bordering Canada and the Atlantic Ocean.
Map of Western Region, USA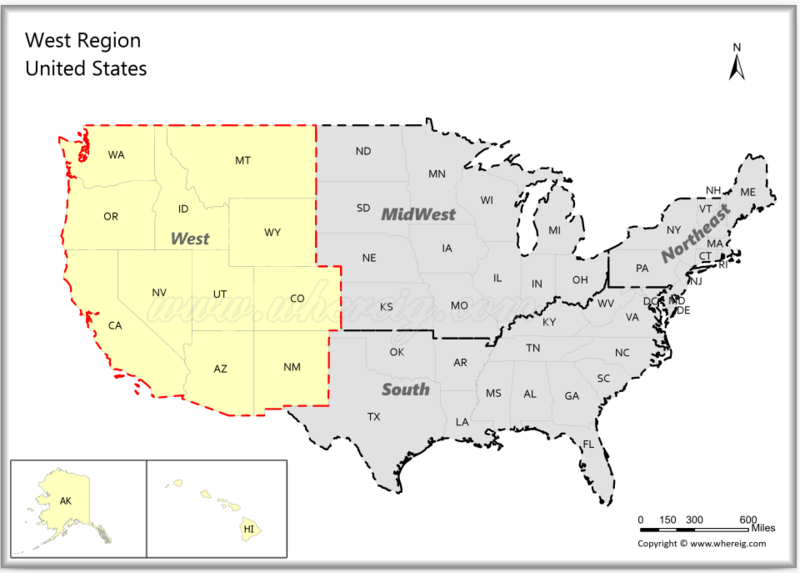 About Map - Map showing Western Region United States.
Western United States
The Western Region United States consists of thirteen states: Alaska, Arizona, California, Colorado, Hawaii, Idaho, Montana, Nevada, New Mexico, Oregon, Utah, Washington and Wyoming. Principle cities in the Western region are Los Angeles, Seattle, Phoenix, San Diego, San Jose, San Francisco, Denver, Honolulu, Las Vegas, Portland and Salt Lake City.
The group of westernmost US states is referred to as the Western United States and also known as the American West, the Far West, and the West. The meaning of the word "the West" altered as American colonization in the U.S. grew westward. The Appalachian Mountain crest was considered the western border until around 1800. As the frontier expanded westward, the region west of the Mississippi River came to be known as the West. The Rocky Mountains, the Great Basin, the Pacific Coast, and the state of Hawaii in the middle of the Pacific Ocean are all included in the U.S. Census Bureau's definition of the 13 westernmost states.
The Western United States, which makes up almost half of the contiguous United States' land area, is the largest region in the nation. The Rocky Mountains, Sierra Nevada, and Cascade Range, as well as several glaciers and the western edge of the Great Plains, are among the highest mountain ranges in the world. It is also the most geographically diversified region in the world. The Great Basin and Mojave deserts, as well as portions of the Sonoran and Chihuahuan deserts, are wholly encompassed within the Western area. The Western United States is made up of the following states: Alaska, Arizona, Colorado, Utah, Nevada, New Mexico, Idaho, Montana, Wyoming, California, Washington, Oregon, Hawaii and the rest of the West Coast.
Grand Canyon, Monument Valley, Lake Powell ,Zion National Park ,St. George, Utah ,Las Vegas, Disneyland, Big Sur ,Yosemite National Park ,Death Valley & The Golden Gate Bridge are some of the most well-known and desirable tourist destinations in Western United States.
On this page, you can learn more about Western United States, including its major cities, population, and other information. A map of Western United States is also available.
List of Western USA States with Capitals
| State | Capital | Major Cities | Populaion 2020 Census | Land Area (Sq mi) | Density (Sq mi) | Total County |
| --- | --- | --- | --- | --- | --- | --- |
| Alaska | Juneau | Anchorage, Fairbanks, Juneau, Sitka and Ketchikan | 733,391 | 570,641 sq mi (1,477,953 km2) | 1.3 | 30 |
| Arizona | Phoenix | Phoenix, Tucson, Mesa, Chandler and Glendale | 7,151,502 | 113,594 sq mi (294,207 km2) | 59.3 | 15 |
| California | Sacramento | Los Angeles, San Diego, San Jose, San Francisco, Fresno and Sacramento | 39,538,223 | 155,779 sq mi (403,466 s. km) | 249.1 | 58 |
| Colorado | Denver | Denver, Colorado Springs, Aurora, Fort Collins and Lakewood | 5,773,714 | 103,642 sq mi (268,431 km2) | 51.7 | 64 |
| Hawaii | Honolulu | Honolulu, Hilo1, Kailua1, Kapolei1 and Kaneohe1 | 1,455,271 | 6,423 sq mi (16,635 km2) | 221 | 5 |
| Idaho | Boise | Boise, Nampa, Meridian, Idaho Falls and Pocatello | 1,839,106 | 82,643 sq mi (214,045 km2) | 19.8 | 44 |
| Montana | Helena | Billings, Missoula, Great Falls, Bozeman and Butte, Helena | 1,084,225 | 145,546 sq mi (376,962 km2) | 7 | 56 |
| Nevada | Carson City | Las Vegas, Henderson, North Las Vegas, Reno, Sparks and Carson City | 3,104,614 | 109,781 sq mi (284,332 km2) | 25.9 | 17 |
| New Mexico | Santa Fe | Albuquerque, Las Cruces, Rio Rancho, Santa Fe and Roswell | 2,117,522 | 121,298 sq mi (314,161 km2) | 17.2 | 33 |
| Oregon | Salem | Portland, Eugene, Salem, Gresham and Hillsboro | 4,237,256 | 95,988 sq mi (248,608 km2) | 41.4 | 36 |
| Utah | Salt Lake City | Salt Lake City, West Valley City, Provo, West Jordan and Orem | 3,271,616 | 82,170 sq mi (212,818 km2) | 35.8 | 29 |
| Washington | Olympia | Seattle, Spokane, Tacoma, Vancouver, Bellevue and Olympia | 7,705,281 | 66,456 sq mi (172,119 km2) | 106.3 | 39 |
| Wyoming | Cheyenne | Cheyenne, Casper, Laramie, Gillette and Rock Springs | 576,851 | 97,093 sq mi (251,470 km2) | 6 | 23 |
MAP of United States Regions
World Countries and Capitals