Western Region United State, is a geographical region of the United States. The Western United States consists of nine states, bordering Canada and the Atlantic Ocean.
Map of Western Region, USA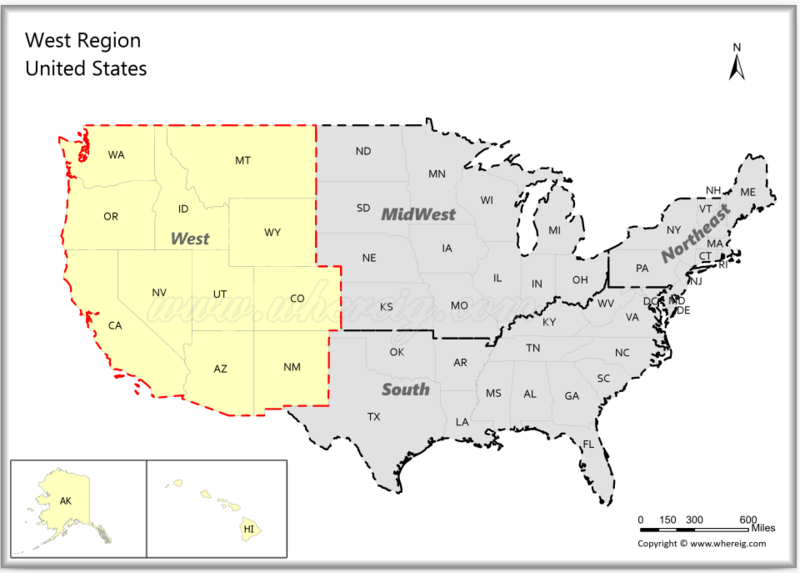 About Map - Map showing Western Region United States.
The Western Region United States consists of thirteen states: Alaska, Arizona, California, Colorado, Hawaii, Idaho, Montana, Nevada, New Mexico, Oregon, Utah, Washington and Wyoming. Principle cities in the Western region are Los Angeles, Seattle, Phoenix, San Diego, San Jose, San Francisco, Denver, Honolulu, Las Vegas, Portland and Salt Lake City.
List of Western USA States with Capitals
| State | Capital | Major Cities | Populaion 2020 Census | Land Area (Sq mi) | Density (Sq mi) | Total County |
| --- | --- | --- | --- | --- | --- | --- |
| Alaska | Juneau | Anchorage, Fairbanks, Juneau, Sitka and Ketchikan | 733,391 | 570,641 sq mi (1,477,953 km2) | 1.3 | 30 |
| Arizona | Phoenix | Phoenix, Tucson, Mesa, Chandler and Glendale | 7,151,502 | 113,594 sq mi (294,207 km2) | 59.3 | 15 |
| California | Sacramento | Los Angeles, San Diego, San Jose, San Francisco, Fresno and Sacramento | 39,538,223 | 155,779 sq mi (403,466 s. km) | 249.1 | 58 |
| Colorado | Denver | Denver, Colorado Springs, Aurora, Fort Collins and Lakewood | 5,773,714 | 103,642 sq mi (268,431 km2) | 51.7 | 64 |
| Hawaii | Honolulu | Honolulu, Hilo1, Kailua1, Kapolei1 and Kaneohe1 | 1,455,271 | 6,423 sq mi (16,635 km2) | 221 | 5 |
| Idaho | Boise | Boise, Nampa, Meridian, Idaho Falls and Pocatello | 1,839,106 | 82,643 sq mi (214,045 km2) | 19.8 | 44 |
| Montana | Helena | Billings, Missoula, Great Falls, Bozeman and Butte, Helena | 1,084,225 | 145,546 sq mi (376,962 km2) | 7 | 56 |
| Nevada | Carson City | Las Vegas, Henderson, North Las Vegas, Reno, Sparks and Carson City | 3,104,614 | 109,781 sq mi (284,332 km2) | 25.9 | 17 |
| New Mexico | Santa Fe | Albuquerque, Las Cruces, Rio Rancho, Santa Fe and Roswell | 2,117,522 | 121,298 sq mi (314,161 km2) | 17.2 | 33 |
| Oregon | Salem | Portland, Eugene, Salem, Gresham and Hillsboro | 4,237,256 | 95,988 sq mi (248,608 km2) | 41.4 | 36 |
| Utah | Salt Lake City | Salt Lake City, West Valley City, Provo, West Jordan and Orem | 3,271,616 | 82,170 sq mi (212,818 km2) | 35.8 | 29 |
| Washington | Olympia | Seattle, Spokane, Tacoma, Vancouver, Bellevue and Olympia | 7,705,281 | 66,456 sq mi (172,119 km2) | 106.3 | 39 |
| Wyoming | Cheyenne | Cheyenne, Casper, Laramie, Gillette and Rock Springs | 576,851 | 97,093 sq mi (251,470 km2) | 6 | 23 |
MAP of United States Regions
World Countries and Capitals