Southern Region United State, is a geographical region of the United States. The Southern United States consists of nine states, bordering Canada and the Atlantic Ocean.
Map of Southern Region, USA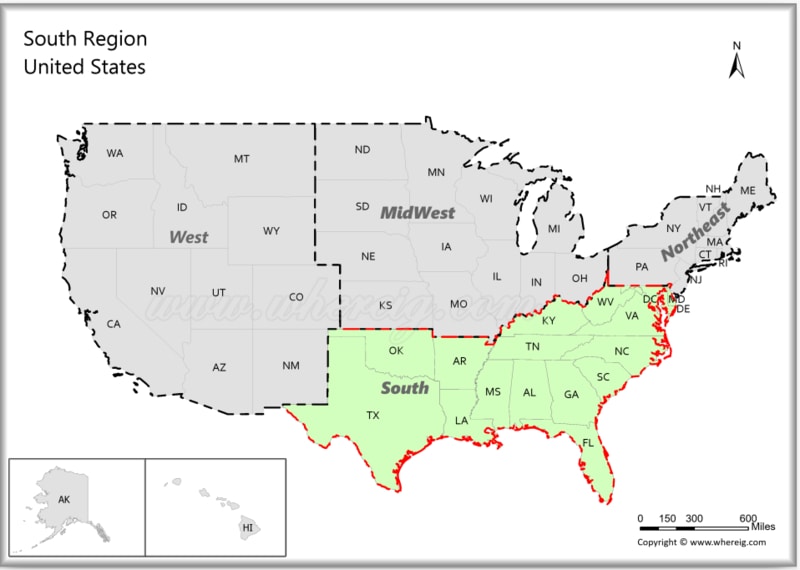 About Map - Map showing Southern Region United States.
The Southern Region United States consists of nine states: Alabama, Arkansas, Delaware, District Of Columbia, Florida, Georgia, Kentucky, Louisiana, Maryland, Mississippi, North Carolina, Oklahoma, South Carolina, Tennessee, Texas, Virginia and West Virginia. Popular cities in the Southern region are Washington DC, Birmingham, Atlanta, Nashville, Houston, Richmond, Miami, Dover, Little Rock and Louisville.
List of Southern United States with Capitals
| State | Capital | Major Cities | Populaion 2020 Census | Land Area (Sq mi) | Density (Sq mi) | Total County |
| --- | --- | --- | --- | --- | --- | --- |
| Alabama | Montgomery | Birmingham, Montgomery, Mobile, Huntsville and Tuscaloosa | 5,024,279 | 50,645 sq mi (131,171 km2) | 95.8 | 67 |
| Arkansas | Little Rock | Little Rock, Fort Smith, North Little Rock, Fayetteville and Springdale | 3,011,524 | 52,035 sq mi (134,771 km2) | 57 | 75 |
| Delaware | Dover | Wilmington, Dover, Newark, Middletown and Smyrna | 989,948 | 1,949 sq mi (5,047 km2) | 480.1 | 3 |
| District Of Columbia | #N/A | #N/A | 689,545 | 61 sq mi (158 km2) | 10,801.50 | 1 |
| Florida | Tallahassee | Jacksonville, Miami, Tampa, St. Petersburg, Orlando and Tallahassee | 21,538,187 | 53,625 sq mi (138,887 km2) | 371 | 67 |
| Georgia | Atlanta | Atlanta, Augusta-Richmond, Columbus, Savannah and Athens | 10,711,908 | 57,513 sq mi (148,959 km2) | 175.6 | 159 |
| Kentucky | Frankfort | Louisville, Lexington, Bowling Green, Owensboro, Covington and Frankfort | 4,505,836 | 39,486 sq mi (102,269 km2) | 111.8 | 120 |
| Louisiana | Baton Rouge | New Orleans, Baton Rouge, Shreveport, Lafayette and Lake Charles | 4,657,757 | 43,204 sq mi (111,898 km2) | 107.6 | 64 |
| Maryland | Annapolis | Baltimore, Frederick, Rockville, Gaithersburg, Bowie and Annapolis | 6,177,224 | 9,707 sq mi (25,142 km2) | 615.7 | 24 |
| Mississippi | Jackson | Jackson, Gulfport, Hattiesburg, Southaven, Biloxi | 2,961,279 | 46,923 sq mi (121,531 km2) | 63.8 | 82 |
| North Carolina | Raleigh | Charlotte, Raleigh, Greensboro, Winston-Salem and Durham | 10,439,388 | 48,618 sq mi (125,920 km2) | 204.5 | 100 |
| Oklahoma | Oklahoma City | Oklahoma City, Tulsa, Norman, Broken Arrow and Lawton | 3,959,353 | 68,595 sq mi (177,660 km2) | 56.5 | 77 |
| South Carolina | Columbia | Columbia, Charleston, North Charleston, Mount Pleasant and Rock Hill | 5,118,425 | 30,061 sq mi (77,857 km2) | 160.8 | 46 |
| Tennessee | Nashville | Memphis, Nashville, Knoxville, Chattanooga and Clarksville | 6,910,840 | 41,235 sq mi (106,798 km2) | 158.8 | 95 |
| Texas | Austin | Houston, San Antonio, Dallas, Austin and Fort Worth | 29,145,505 | 261,232 sq mi (676,587 km2) | 103.2 | 254 |
| Virginia | Richmond | Virginia Beach, Norfolk, Chesapeake, Richmond and Newport News | 8,631,393 | 39,490 sq mi (102,279 km2) | 210.8 | 133 |
| West Virginia | Charleston | Charleston, Huntington, Parkersburg, Morgantown and Wheeling | 1,793,716 | 24,038 sq mi (62,259 km2) | 77 | 55 |
MAP of United States Regions
World Countries and Capitals