Vanuatu, officially the Republic of Vanuatu, is an island country located in the South Pacific Ocean. It's lies in east of northern Australia, southeast of the Solomon Islands, northeast of New Caledonia, east of New Guinea and west of Fiji.
Location Map of Vanuatu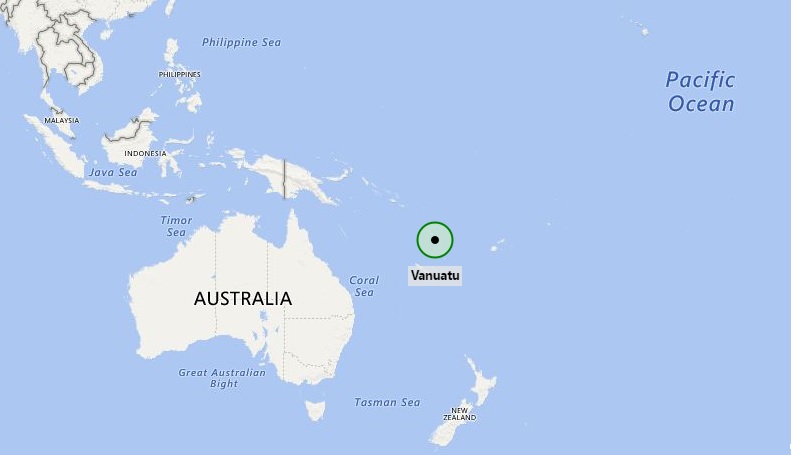 About Map
: Map showing location of Vanuatu in the Oceania Continent.
Where is Vanuatu Located?
The given Vanuatu location map shows that Vanuatu are located in the South Pacific Ocean.
Vanuatu map also shows that it is an archipelago of volcanic origin. The nearby neighbor countries are Australia in the west, New Caledonia in the south, and Fiji in the east. The climate type of Vanuatu is sub-tropical.
Vanuatu has been created as Republic of Vanuatu in the year 1980. The capital city of Vanuatu is Port Vila. The government type of Vanuatu is a constitutional democracy featured with representative parliamentary system. Under this political system, the head of the Republic is an elected President; however the Prime Minister is the head of government.
The economy of the country depends upon various significant sectors i.e. agriculture, offshore financial services, cattle raising, and tourism. Besides, fishing is also important economic activity in Vanuatu.
Places to see in Vanuatu:
| | | | |
| --- | --- | --- | --- |
| Mount Yasur | Champagne Beach | Mele | Millenium Cave |
| Iririki Island | Million Dollar Point | Mystery Island | Lelepa |
| Eton Beach | Erakor Island | Nanda Blue Hole | Port Resolution |
| Pele | Ratua, Vanuatu | Ambrym | Benbow |
| Matevulu Blue Hole | Lonnoc Beach | Erakor Lagoon | Vanuatu National Museum |
| Aniwa | Mele Bay | Riri Blue Hole | Wet ''n' Wild Adventure Park |
| Eden on the River | Mount Gharat | Blue Cave | Evergreen Cascades Waterfall |
Facts about Vanuatu
| | |
| --- | --- |
| Official Name | Republic of Vanuatu |
| Location | the South Pacific Ocean |
| Coordinates | 15.3767° S, 166.9592° E |
| Continent | Oceania |
| Capital City | Port Vila |
| Official Languages | Bislama, English, French |
| Government | Unitary parliamentary republic |
| Legislature | Parliament |
| Independence from France and the United Kingdom | 30 July 1980 |
| Admitted to the United Nations | 15 September 1981 |
| Area | 12,189 km2 (4,706 sq mi) |
| Population | 307,815 |
| Ethnic Groups | 98.5% Ni-Vanuatu 1.5% Others |
| Religion | Christian |
| Currency | Vanuatu vatu (VUV) |
| Time Zone | UTC+11 (VUT) |
| ISO Code | VU |
| Calling Code | 678 |