Nauru officially the Republic of Nauru, is an island country and microstate in Oceania. It's lies northwest of Tuvalu, northeast of the Solomon Islands, east-northeast of Papua New Guinea, southeast of the Federated States of Micronesia and south of the Marshall Islands.
Location Map of Nauru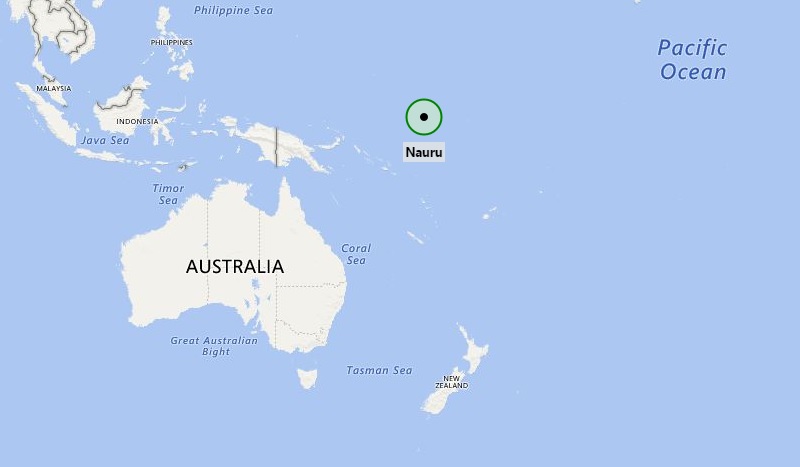 About Map
: Map showing location of Nauru in the Oceania.
Where is Nauru Located?
Nauru is an island country and microstate in Oceania, in the Central Pacific.
Nauru is the world's smallest island nation that formerly was known as Pleasant Island. Banaba island of Kiribati, situated about 300 km east is the nearest neighbor of Nauru.
Nauru got its independence in the year 1968. The government type of Nauru is a republic with a parliamentary system of government. In this political system, the president is use to be the head of state as well as head of government. There is a unicameral parliament constituted of 18 members. They are elected for three years.
Interestingly, Nauru is a phosphate rock island where phosphate deposits close to the surface and it has been exploited by the simple strip mining operations. Likewise, its economy is largely depends upon the export of phosphate. However, since the natural resource Phosphate is limited, the government of Nauru has resorted another source of income; resultantly, Nauru became a tax haven and illegal money laundering place. Later on its economy is become dependent largely upon foreign aid.
Places to see in Nauru:
| | | | |
| --- | --- | --- | --- |
| Anibare Bay | Buada Lagoon | Command Ridge | Volcanic plateau |
| Nauru Museum | Moqua Well | Central Plateau | Nauru Beach |
Facts about Nauru
| | |
| --- | --- |
| Nauru Official Name | Republic of Nauru |
| Nauru Coordinates | 0.5228° S, 166.9315° E |
| Continent | Oceania |
| Neighbour | Banaba Island in Kiribati,Tuvalu, Solomon Islands |
| Capital City | Yaren |
| Largest city of Nauru: | Denigomodu |
| Demonym(s) | Nauruan |
| Nauru Legislature | Parliament |
| Independence from UN trusteeship | 31 January 1968 |
| Official Languages | Nauruan, English |
| Government | Republic |
| Area of Nauru | 21 km2 (8.1 sq mi) (193rd) |
| Population of Nauru | 7 500 Nauruans, 2 500 Foreign Workers |
| Ethnic Groups | Nauruan 58%, Other Pacific Islander 26%, Chinese 8%, European 8% |
| Religions | Christian |
| Currency of Nauru | Australian Dollar (Aud) |
| Nauru Time Zone | UTC +12h |
| ISO Code | NR |
| Calling Code | 674 |
| Internet TLD | .nr |