Marshall Islands, officially Republic of the Marshall Islands, is an island country located in the central Pacific Ocean.
Location Map of Marshall Islands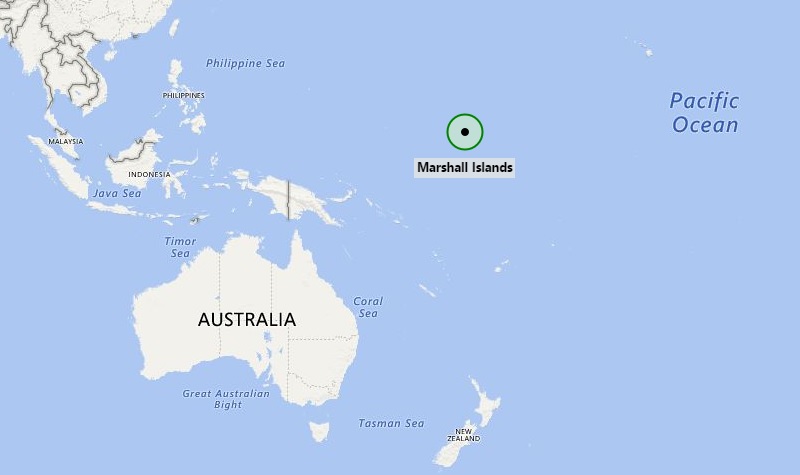 About Map
: Map showing location of Marshall Islands in the Oceania.
Where is Marshall Islands Located?
Marshall Island is located in the Middle of the Pacific Ocean and just north of the Equator.
Capital City of Marshall Island is Majuro and the total inhabitants are about 62,000. The climate of islands is hot and humid along with a wet season from May to November.
In the year 1986, Marshall Islands got its independence; however, it remained intact with the USA under the Compact of Free Association. Likewise, the government type of Marshall Islands is a mixed parliamentary-presidential system along with its Constitution.
The economy of the region is based upon the combination of subsistence agriculture and modern urbanized sector and other related work. However, the agriculture work includes breadfruit and fishing, banana, taro, and pandanus cultivation. Besides, tourism is also growing fast on the island and gradually contributing more into the country economy.
Places to see in Marshall Islands:
| | | | |
| --- | --- | --- | --- |
| Majuro | Ebeye | Arno Atoll | Mili Atoll |
| Roi-Namur | Runit Island | Utirik Island | Bikini |
| Kili | Omelek | Likiep Atoll | Laura Beach |
| Uliga | Ailuk Atoll | Mejit Island | Eneko |
| Wotho Atoll | Ailinginae Atoll | Jabat Island | Meck |
| Laura | Mejit | Darrit | Emon Beach |
Facts about Marshall Islands
| | |
| --- | --- |
| Official Name | Republic of the Marshall Islands |
| Continent | Oceania |
| Capital City | Majuro |
| Official Language | English |
| Government | Parliamentary Democracy in Free Association with the USA |
| Area of Marshall Islands | 181.43 km2 (70.05 sq mi) (189th) |
| Population of Marshall Islands | 58,413 |
| Ethnic Group | Marshallese 90% |
| Ethnic Groups | Religions: Christian, Mostly Protestant. |
| Currency of Marshall Islands | US Dollar (USD) |
| Marshall Islands Time Zone | UTC+12 (MHT) |
| ISO Code | MH |
| Calling Code | 692 |
| Internet TLD | .mh |