Palau, officially the Republic of Palau and historically Belau, Palaos or Pelew, is an island country located in the western Pacific Ocean.
Location Map of Palau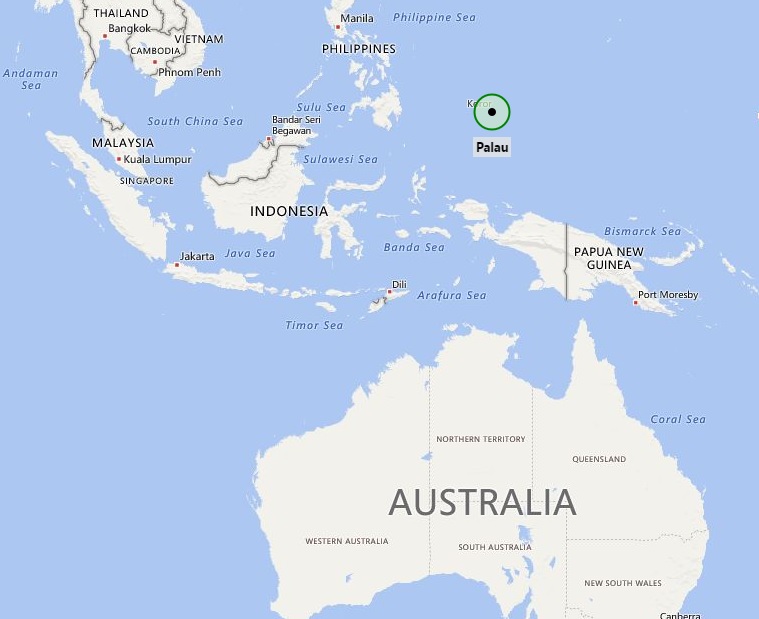 About Map
: Map showing location of Palau in the Oceania Continent.
Where is Palau Located?
Palau is located Northern Pacific Ocean.

Palau map also shows that the region is a group of Islands which earlier were under the sovereignty of New Zealand but in the year 1992 it got its independence and most of the ministries now governed by local rulers.

However, defense and foreign affairs are the accountability of New Zealand, after consultation with the Palau. In recent times, the Palau have been gradually adopting an increasingly self-determining foreign policy and taking own decisions. Though Cook Islanders are the citizens of New Zealand; besides, they have the status of Palau nationals, which is not available with all New Zealand citizens. Geographically, the Palau are located in the South Pacific Ocean, exactly north-east of New Zealand and between French Polynesia and American Samoa. The country consists of about fifteen most important islands; which are divided into two separate groups: the Southern Palau, and the Northern Palau of coral atolls.

The main source of revenue of the country is tourism. The islands have mild climate and several picturesque landscapes that attract tourists across the world. Thousands of tourists from different part of the world visit these islands every year. The other source of county's income is offshore banking, pearls, marine, and fruit exports.
Places to see in Palau:
| | | | |
| --- | --- | --- | --- |
| Jellyfish Lake | Rock Islands | Ngardmau Waterfalls | Koror Island |
| Ngeaur Island | Malakal Island | Belau National Museum | German Channel |
| Chelbacheb | Palau Aquarium | Carp Island | K.B. Bridge |
| Kayangel | Ulong Island | Palau Islands | Dolphins Pacific |
| Sonsorol Island | Ngerukewid | Nikko Bay | Etpison Museum |
| Rose Garden Resort | Tobi Island | Milky Way | Mount Ngerchelchuus |
Facts about Palau
| | |
| --- | --- |
| Official Name | Republic of Palau |
| Coordinates | 7.5150° N, 134.5825° E |
| Continent | Oceania |
| Capital City | Ngerulmud |
| Largest city | Koror |
| Official Languages | English, Palauan |
| Government | Democratic presidential republic |
| Area | 459 km2 (177 sq mi) |
| Population | 17907 (2018) |
| Ethnic Groups | Palauans (they are Micronesian with Malayan and Melanesian Elements) |
| Religion | Christian |
| Currency | US Dollar (USD) |
| Time Zone | UTC+9 (PWT) |
| ISO Code | PW |
| Calling Code | 680 |