Seychelles is an island country in Africa, Seychelles is located in the Indian Ocean northeast of Madagascar and at the eastern edge of the Somali Sea. Seychelles officially the Republic of Seychelles, Its capital city is Victoria.
Location Map of Seychelles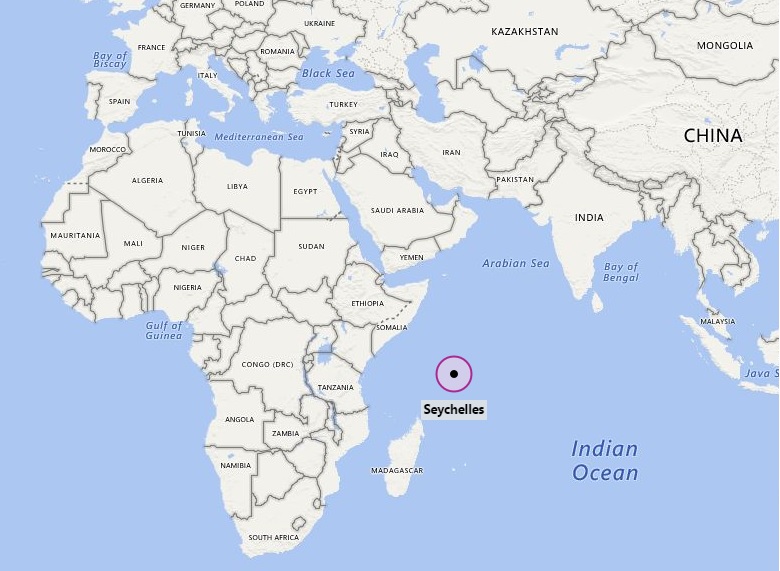 About Map: Map showing Where is Seychelles located in the World Map.
Where is Seychelles Located?
Seychelles is located in the Indian Ocean. Seychelles map also shows that it is an archipelago of more than 100 islands. It is about 1,500 km east of mainland of Africa continent.
Madagascar lies in the south-west of Seychelles. Some of the other nearby islands and island countries are, Zanzibar, Comoros, Mayotte, and Mauritius. The government type of Seychelles is Multiple-party Republic, under which the president Seychelles is use to be both head of state and head of government. The president is elected for a five-year term of office by popular vote.
The economy of the country is dependent upon agriculture, fishing, manufacturing, services, and tourism. Above all, the government's liberal policies promote tourism and tourism related industries. The country has beautiful natural landscapes that attracts tourist from all over the world.
Capital of Seychelles
Victoria, town and capital of the Republic of Seychelles, located on the northeastern coast of Mahé Island. It's lies between latitue of 37.4713° South and longitude of 144.7852° East.
Seychelles - Quick Facts
| | |
| --- | --- |
| Continent | Africa |
| Country | Seychelles |
| Coordinates | 4°37'S 55°27'E |
| Where is Located | Seychelles is a country located in the Eastern Africa |
| Capital | Victoria |
| Largest City | Victoria |
| Nearby island countries and territories | The Comoros, Madagascar, Mauritius, Réunion (France) and Mayotte (France) to the south, Maldives and the Chagos Archipelago (UK) to the east. |
| Administrative divisions | 25 administrative districts |
| Area | 177 sq mi (459 sq km) [181st] |
| Population | 98,462 (2020) |
| Population Density | 214.5/km2 (555.6/sq mi) |
| Official Language | French, English, Seychellois Creole |
| Currency | Seychellois Rupee (SCR) |
| ISO Alpha-2 Code | SC |
| ISO Alpha-3 Code | SYC |
| ISO Numeric Code | 690 |
| GDP (PPP) | $2.919 billion 2019 estimate |
| Calling code | +248 |
| Time Zone | SCT (UTC+4) |
| Airport | Seychelles International Airport (IATA: SEZ, ICAO: FSIA) |
| Internet TLD | .sc |
Seychelles Places of Attractions
| | | | |
| --- | --- | --- | --- |
| La Digue | Ile du Nord Island | Morne Seychelles National Park | Eden Island, Seychelles |
| Saint-Anne Marine National Park | Fregate Island | Ile au Cerf | Botanical Garden |
| Vallée de Mai, Praslin, Seychelles | Bird Island | Aride Island | Jardin Du Roi Spice Garden |
| Beau Vallon Beach | Desroches | Cousine | Anse Kerlan Beach |
| Curieuse Island | Denis | Ile Moyenne | Sir Selwyn Selwyn-Clarke Market. |
| Anse Lazio Beach | Sainte Anne Island | Cote D'Or Beach | Round Island, Mahé |
| Anse Intendance | Praslin National Park | Morne Blanc Trail | Port of Victoria |