The given Morocco location map shows that Morocco is located in the north-west part of Africa continent on the edge of continental Europe. Capital of Morocco is Rabat. Casablanca is considered the economic and business center of Morocco.
Location Map of Morocco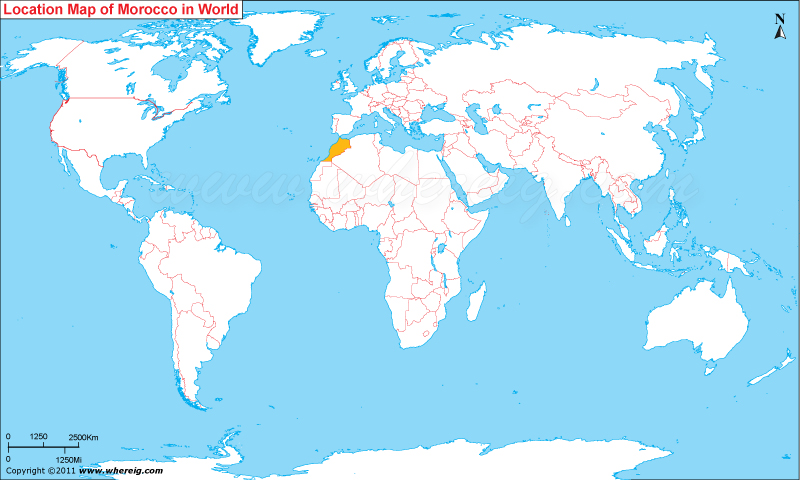 About Map: Map showing location of Morocco in the world Map.
Where is Morocco Located?
Morocco map also shows that Morocco is a Northern African country, bordering the North Atlantic Ocean in the west, the Mediterranean Sea in the north and shares its international boundary with Algeria from the west; however, in the southern region it has boundary with disputed region Western Sahara. It shares maritime borders with Portugal and Spain. Besides, from the north-west side, it has coastline with Mediterranean Sea and in the western side Atlantic Ocean lies. In the northern side, Strait of Gibraltar, a thin strip of water body connecting Mediterranean Sea and Atlantic Ocean separates Morocco from Spain
Morocco is part of the Maghreb region and shares its historical, cultural, and linguistic features with Tunisia, Algeria, Mauritania and Libya. The government type of Morocco is constitutional monarchy featured with an elected parliament. The King of Morocco has extensive executive powers that also include dissolving parliament at will. Likewise, the executive power is exercised by the government but more significantly by the king himself. Legislative power is vested in the government and the two chambers of parliament, i.e. the Assembly of Representatives and the Assembly of Councillors.
The climate of Morocco is predominantly Mediterranean type (especially in the north).

Moreover, for tourism purpose, Morocco is one the attractive places in Africa. The cities like Casablanca, Marrakesh, and the Capital city Rabat are the important tourists' attraction. Besides, the tantalizing beaches at Atlantic coast, local culture, and delicious food everything collectively attracts tourist from all over the world.
Morocco Country Facts
| | |
| --- | --- |
| Country | Morocco |
| Continent | Africa |
| Where is Located | Morocco is a country located in the Northern Africa |
| Coordinates | 32.0000° N, 6.0000° W |
| Capital | Rabat |
| Largest City | Casablanca |
| Neighboring Countries |  Algeria, Western Sahara, Spain |
| Administrative divisions | 15 regions |
| Area | 446,550 sq km |
| Population | 33304400 2014 estimate |
| Official Language | Arabic, Tamazight |
| Currency | Moroccan dirham (MAD) |
| ISO Alpha-2 Code | MA |
| ISO Alpha-3 Code | MAR |
| ISO Numeric Code | 504 |
| GDP | $181.9 billion 2013 estimate |
| Calling code | +212 |
| Time Zone | WET (UTC+0) |
| Internet TLD | .ma |