Map of Ventura County - Ventura County is a county located in the U.S. state of California. Ventura County Map showing cities, highways, important places and water bodies. Get Where is Ventura County located in the map, major cities in Ventura county, population, areas, and places of interest.
Ventura County Map, California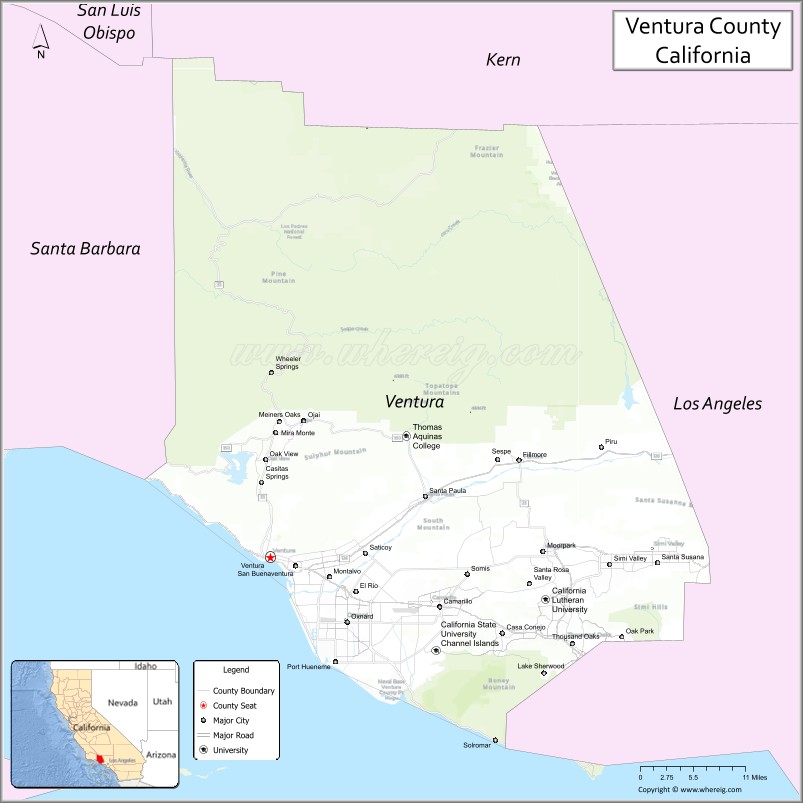 About Ventura County Map, California: The map showing the county boundary, county seat, major cities, highways, water bodies and neighbouring counties.
Most Viewed Links
Map of Ventura County, California
Ventura County is a county located in the southern part of the state of California, United States. The county seat and largest city is Ventura. According to the United States Census Bureau, the county has a total area of 2,208 square miles (5,722 km²), of which 1,843 square miles (4,774 km²) is land and 365 square miles (948 km²) (16.5%) is water.
As of the 2020 United States Census, the population of Ventura County was 846,006. Ventura County was established on 1872. The county is known for its beautiful beaches, including Ventura Beach, Surfer's Point, and Silver Strand Beach. The area is also known for its agriculture, with crops such as strawberries, lemons, and avocados being among the top products grown in the area.
Major cities and towns in Ventura County include Ventura, Oxnard, and Thousand Oaks. The county is bordered by Santa Barbara County to the north, Kern County to the northeast, Los Angeles County to the east and southeast, and the Pacific Ocean to the west. The western part of the county is home to Channel Islands National Park, a popular destination for hiking, kayaking, and whale watching.
Ventura County Facts
| County Info | Facts |
| --- | --- |
| County | Ventura County |
| County Seat | Ventura |
| State | California |
| Country | United States |
| FIPS code | 111 |
| Established | 1872 |
| Area | 1,846 sq mi (4,781 km2) |
| Population | 839784 |
| Density | |
| Formed / Origin | Santa Barbara |
Ctities in Ventura county
| City Name | Type | Population (2020) | Pop. Density | Area | Incorporated |
| --- | --- | --- | --- | --- | --- |
| Camarillo | City | 70,741 | 3,592.7/sq mi (1,387.2/km2) | 19.69 sq mi (51 km2) | March 28, 1964 |
| Fillmore | City | 16,419 | 4,975.5/sq mi (1,921.0/km2) | 3.3 sq mi (8.5 km2) | July 10, 1914 |
| Moorpark | City | 36,284 | 2,954.7/sq mi (1,140.8/km2) | 12.28 sq mi (31.8 km2) | July 1, 1983 |
| Ojai | City | 7,637 | 1,751.6/sq mi (676.3/km2) | 4.36 sq mi (11.3 km2) | August 5, 1921 |
| Oxnard | City | 202,063 | 7,616.4/sq mi (2,940.7/km2) | 26.53 sq mi (68.7 km2) | June 30, 1903 |
| Port Hueneme | City | 21,954 | 4,967.0/sq mi (1,917.8/km2) | 4.42 sq mi (11.4 km2) | March 24, 1948 |
| Santa Paula | City | 30,657 | 5,543.8/sq mi (2,140.5/km2) | 5.53 sq mi (14.3 km2) | April 22, 1902 |
| Simi Valley | City | 126,356 | 3,041.1/sq mi (1,174.2/km2) | 41.55 sq mi (107.6 km2) | October 10, 1969 |
| Thousand Oaks | City | 126,966 | 2,297.6/sq mi (887.1/km2) | 55.26 sq mi (143.1 km2) | October 7, 1964 |
| Ventura | City | 110,763 | 5,060.0/sq mi (1,953.7/km2) | 21.89 sq mi (56.7 km2) | April 2, 1866 |
Explore Map of California Counties
County Map of U.S. 50 States